Trying (again) to Reason with Hurricane Season (2019)
Here we are in our 2nd storm season since we jumped into villa ownership on St. John. You know it's coming in June, but you just keep your head down and smile about all the beautiful things you experience every week. Then the water heats up just a little more, guests on island tail off to what seems like 50% of a normal spring day, and then an Invest turns into a Depression then gets predicted to become a Tropical Storm which might become a Hurricane. This year, i decided to keep a little journal to reflect the emotions and actions happening on St. John leading up to the first named storm of the season. So, i will post here every few hours through Dorian's formation, approach, and passing of our little island paradise.
Final Update: Thurs Aug 29, 2019 10:09 Atlantic Standard Time
Saturday Aug 24, 2019 14:00 AST - Our first storm threat of 2019
Two years ago we arrived on St. John for a vacation/reconnaissance mission to see what it would be like on island in the summer planning for a move in 2022/23. Everything changed during that 10 day stay when a crazy mixture of pressure, moisture, water temperature and a hundred other variables brought a September of hurricanes to remember.
A few days ago we were notified on our phones of a tropical disturbance that was forecast to go from depression to tropical storm. It's the first one of the 2019 storm season and you can almost feel the jump of the community on island. Friends start texting. Parking spots in the lumberyard are hard to come by. Our first iPhone check is not what silly political tweet fight is going on, but what the cone from NOAA 5 day Atlantic forecast looks like.
Did it get wider? Has it shifted north? Who is this NHC Forecaster Stewart? I like (s)he explains things.
Anyway, we get up on the ladder and get out the bolts for the hurricane doors and start talking about Tesla Powerwalls, solar panels, lawn furniture, and the like. And, even though current 72-hour forecasts are more accurate that 24-hour forecasts in the 80's, we still sit and wait and check our Hurricane apps every 4-6 hours.
Sunday Aug 25, 2019 19:00 AST - Plastic Protection!
Today we put more things away and made plans for this week's villa upgrades: the remaining sliding glass doors, new curtains, and a whole lot more. But Dorian is still first in our minds. After a dip in the pool, Carrie mentions the track turned a little more northward - forecasts show 195 mile fly by on Wednesday morning.
So i climb up and get the hurricane door bars and bolts out.
This is a good time to talk about those doors…Chuck & Kristin told us 2 years ago this week, while we were guests at Great Expectations, that many years ago an island contractor suggested they replace their wood storm shutters with the current white plastic ones. They would last forever even in the salt air and they were made from recycled milk jugs.
When i arrived on island after IRMA and saw every one of them still in place - and only 1 sliding glass pane out of 39 broken behind them - i knew that they saved the day. I believe their slight flex allowed them to slightly deform in the wind and crashing, not splinter like wood or crinkle like metal shutters.
Monday August 26, 2019 5:07 AST (yes, we get up early) - Our Villa Hurricane Doors
Carrie and I go back to our day jobs - her at the villa apartment dining room table and me in my office on the way to Cruz Bay in the Palm Plaza complex.

I stopped at St. John Hardware to get some extra bolts for the internally barred shutters, just in case. The villa has 18 hurricane shutters. All but 3 of them get barred from the outside with 2 x 40+lb steel bars. Those 3 special doors are on Hawksnest facing west and one each facing east and west on Honeymoon (the Owner's Apartment) in the Guest House. Those doors bars are put on the inside while in the room, and are held tight, keeping the doors from pulling out, by carriage bolts with wing nuts. There are 2 reasons for internal door bars
in the case of one of Honeymoon's two sunrise facing shutters, it is so you can close the door securely without having to jump off the 2nd floor balcony or use a ladder.

In the case of one of Honeymoon's and Hawksnest's only sunset facing hurricane door, it is so you can bolt yourself into the concrete structure and hole up as a storm passes, but still be able to let yourself out after the mayhem passes.
So, the basic procedure is you walk around each building moving lawn furniture and a hammock or 2 inside, then swing closed the large white hurricane doors and slide down 2 heavy bars near the middle top and bottom to hold them tight. Then you head to the Guest House and slide those external-barring doors closed and decide whether you will stay in the upstairs apartment (Honeymoon) or downstairs in Hawksnest and bolt yourself in. We haven't done it yet, and I don't ever want to. But i know how to do it. I undid the doors 9 days after Irma when i arrived on island amidst the destruction, I put them all back just before Maria a week later, and took them all down again after.
Mon Aug 26, 2019 10:30 AST - Nuking Hurricane Eyes?
This morning my iPhone notified me of a tweet which contained a link that linked to a story online about how President Trump has, more than once, asked why we couldn't protect the US from hurricanes by exploding a nuclear warhead into the eye to '"disrupt it."
A friend in Vermont texted me and asked how things were on island, what with the storm coming and all. I replied with the link to the Axios story. LOLs, HAHAHAHAs, and stupid Emojis followed. Some one was quoted in the story as saying:
"His goal — to keep a catastrophic hurricane from hitting the mainland — is not bad…"
I thought, yeah, just like tossing out the baby with the bath water, cutting off the nose despite the face, missing the forest for the trees, or [insert any other self-destructive over-reaction or missed big picture solution to a problem].
It's not climate change that needs looking at. We'll use explosions to fix these darn storms, one whack at a time.
I'd love to see the graph comparing effects on sea life (and above water life for that matter) between 60 years of increasing 'bad' sunscreen use and multiple annual atmospheric nuclear blasts.
Carrie and I are pretty middle of the road when it comes to our beliefs on government, finances, liberties, taxation, etc - but, come on, disrupting weather with nuclear explosions?
Mon Aug 26, 2019 11:30 AST - 9th Dorian Advisory from NHC
The 9th Advisory on Dorian from the National Hurricane Center just came out. Looks like the forecast for strength hasn't changed much, but the forecast just moved it ~50 miles closer to St. John when it passes us. That's still 150 miles away with a radius of maybe 40 miles, it sounds like we might be in for some 40-50mph winds.
Mon Aug 26, 2019 14:34 AST - Surface Wind Fields
Latest Update: NOAA's colored maps showing Tropical Storm and Hurricane Watches and Warnings expands up the windward islands and is headed our way. Hopefully this storm passes over St. Lucia and the Grenadines with just some rain, stays well south of the Leewards and dissipates only leaving some nice free cistern water in its wake.
Mon Aug 26, 18:40 AST | St. Croix closing her ports tonight
Ok, it's not the most heart-warming news that a US Virgin Island is closing its ports at 8:00p tonight, but i think it's just super precautionary actions. They were late closing for Irma and Maria if I remember correctly. Plus, they are 40 miles closer to the storm's predicted path than we are.
So let's look at the meteorological facts:
The path remains constant: Dorian is still heading west-northwest and going to slide south of St. John by 150+ miles.

The forecast size hasn't grown

The strength hasn't changed

They are now predicting 2-4" of rain in Puerto Rico, so that most likely means the same or less for us
Looking at the TS-Force Wind Probability, the NHC is predicting 20-40% chance of them coming to us tomorrow night by 8:00p. Tropical-Storm-Force sustained winds of 39mph appears to be under 40% chance.
So tomorrow we get the hurricane bars down, but just as an exercise. We'll know a lot more in the morning.
Tues Aug 27, 2019 3:43 AST - No longer a Hurricane?
Forecaster Pasch tells us that an Air Force plane has investigated and finds things not as strong as originally predicted. The cone now shows no "H" anywhere along Dorian's forecast path. Good news for all involved, especially the people of St. Lucia and St. Vincent. They are predicting some decent rain and I wonder if that means rain for us or is 130 miles away too far to affect us significantly?
Tues Aug 27 6:25 AST - early morning shoring up a friend's boat
So the storm forecast has weakened and we think we're as prepared as we need to be anyway for some rain and wind, but a friend is off island and we just want to triple check things in Cruz Bay.
My friend Basil (he and his wife own BogiesVilla) and I head downtown before 6am, grab a dinghy, and motor out to re-arrange mooring lines and add the bow anchor as a 4th backup on the Lucy Moon, another friend's 19.5' Scout center console - just in case.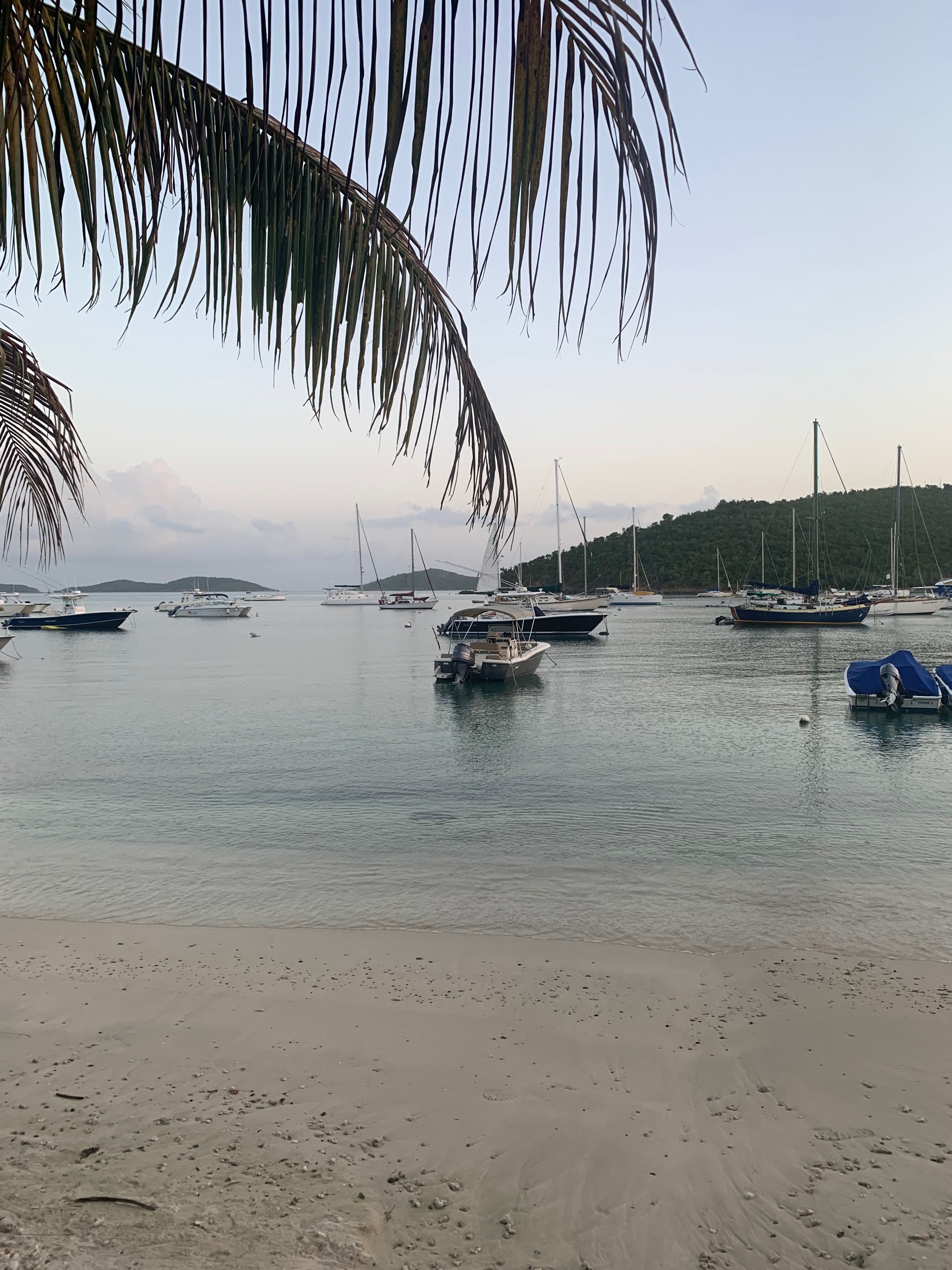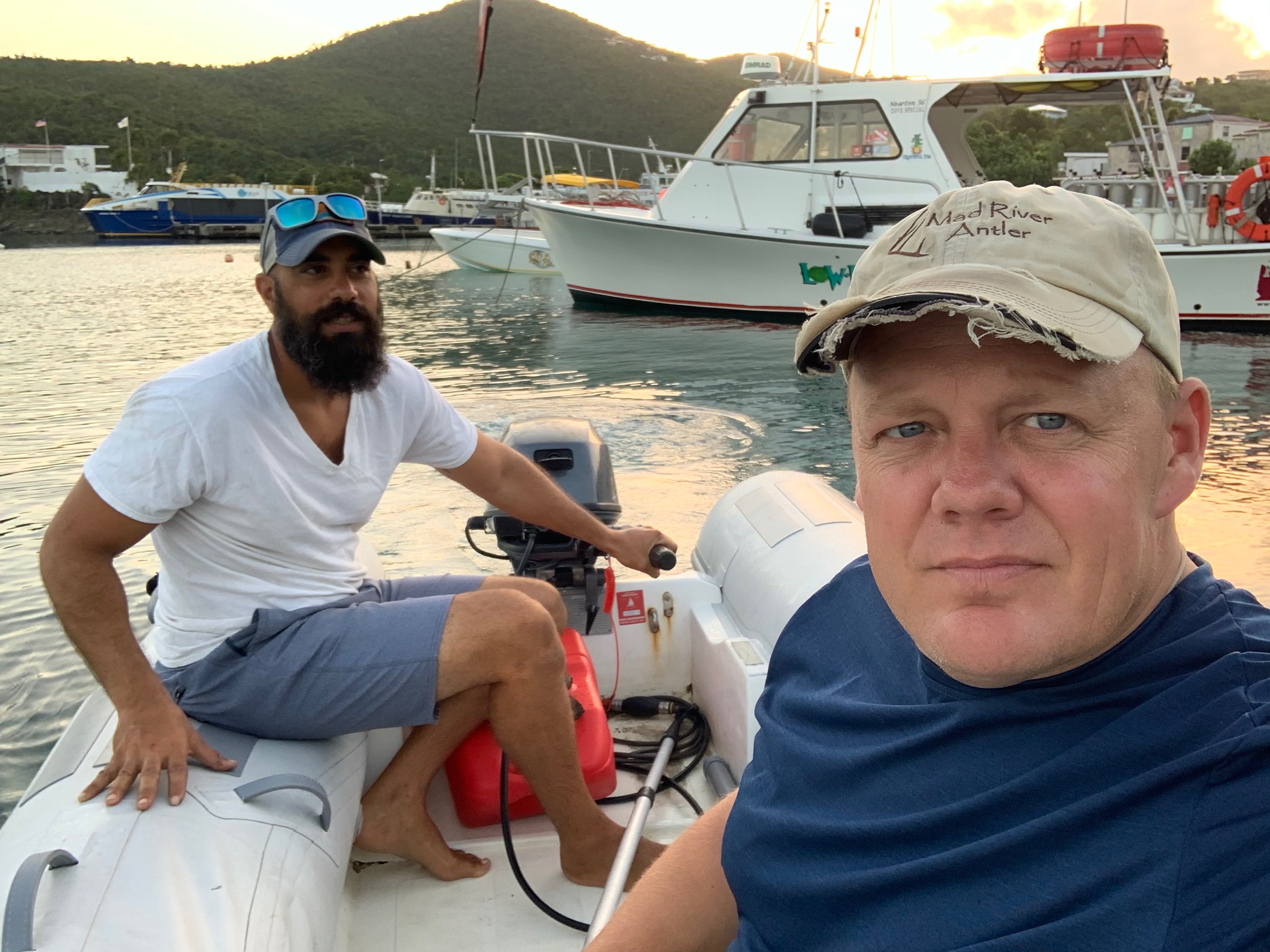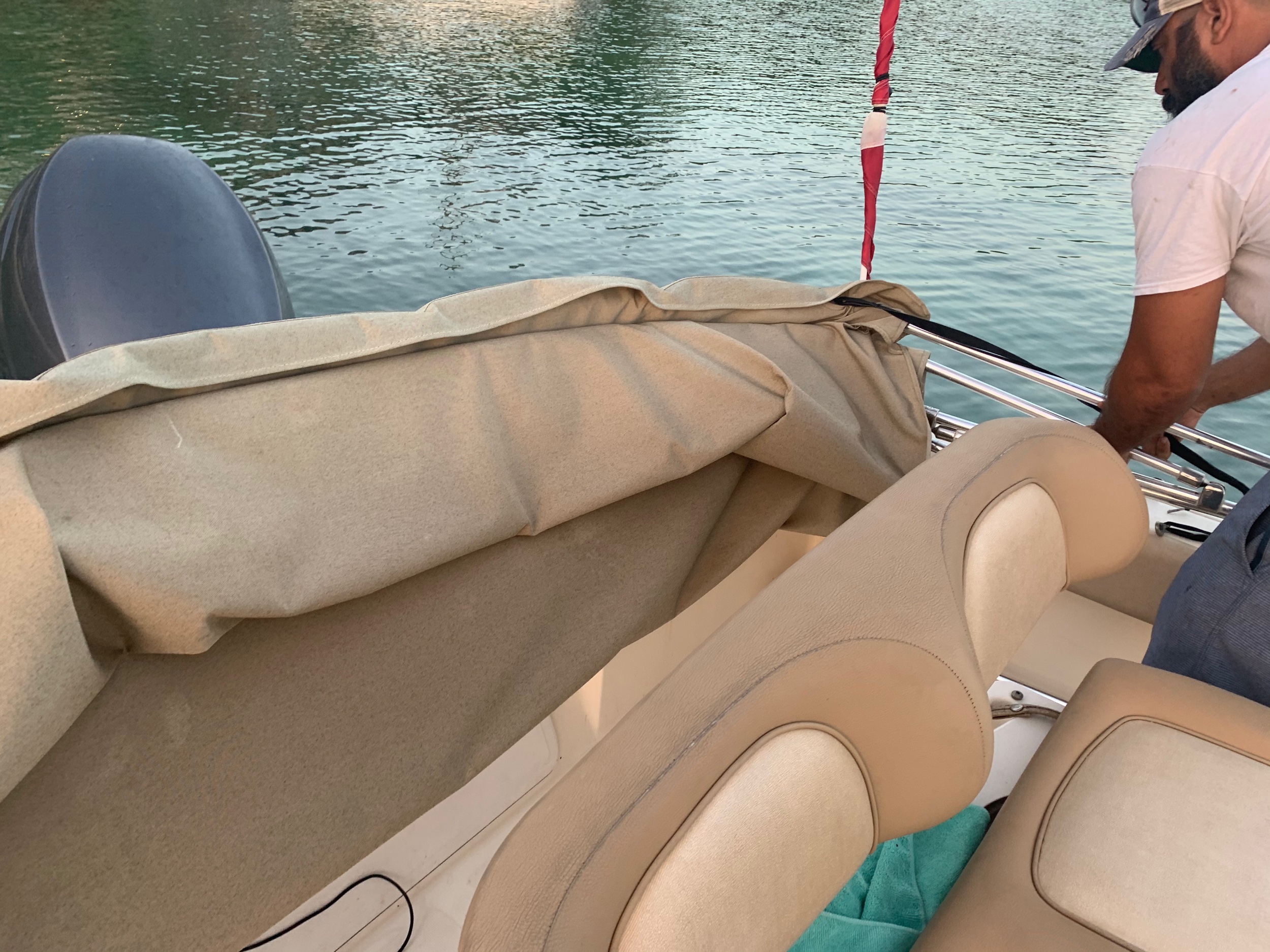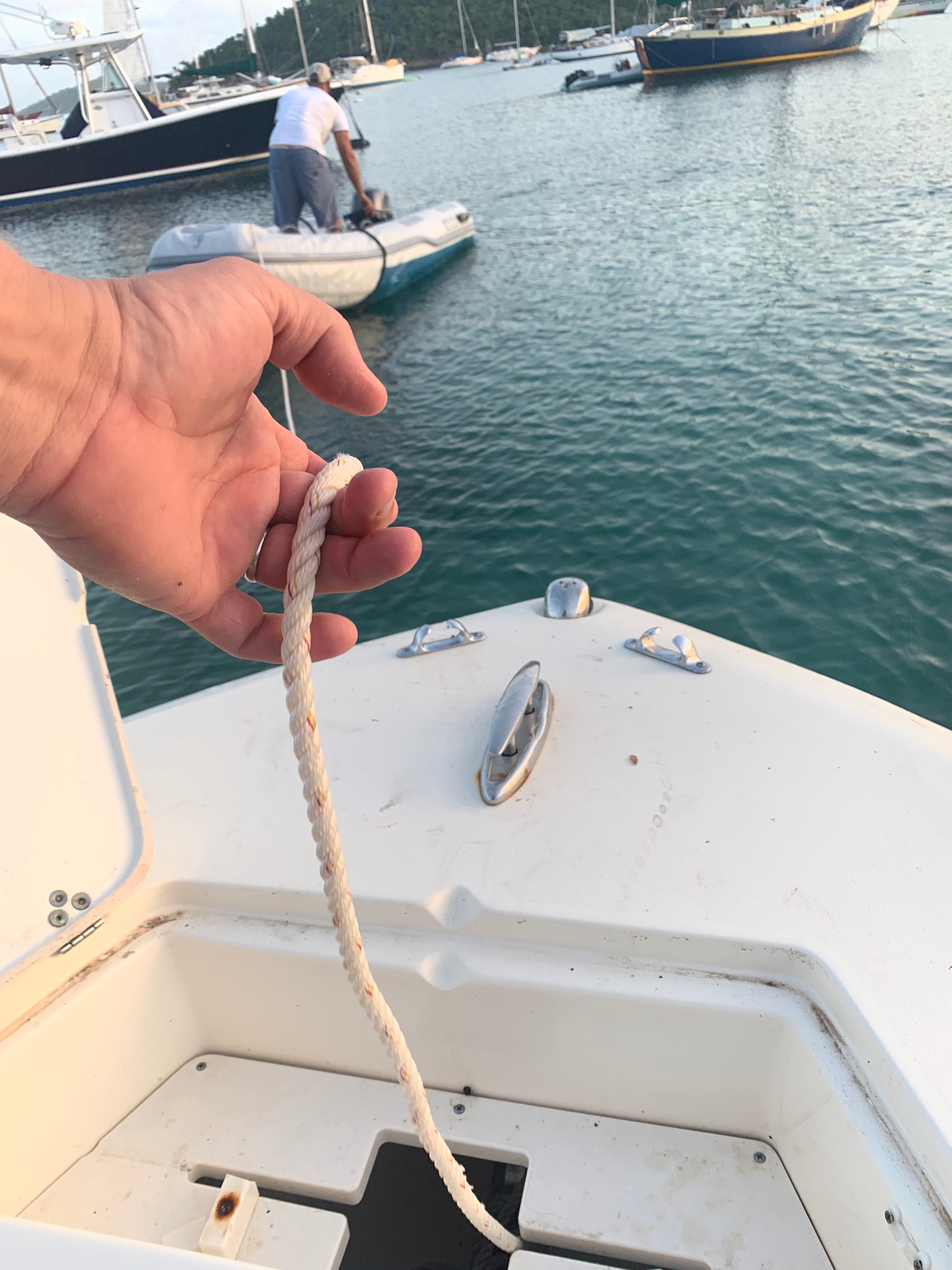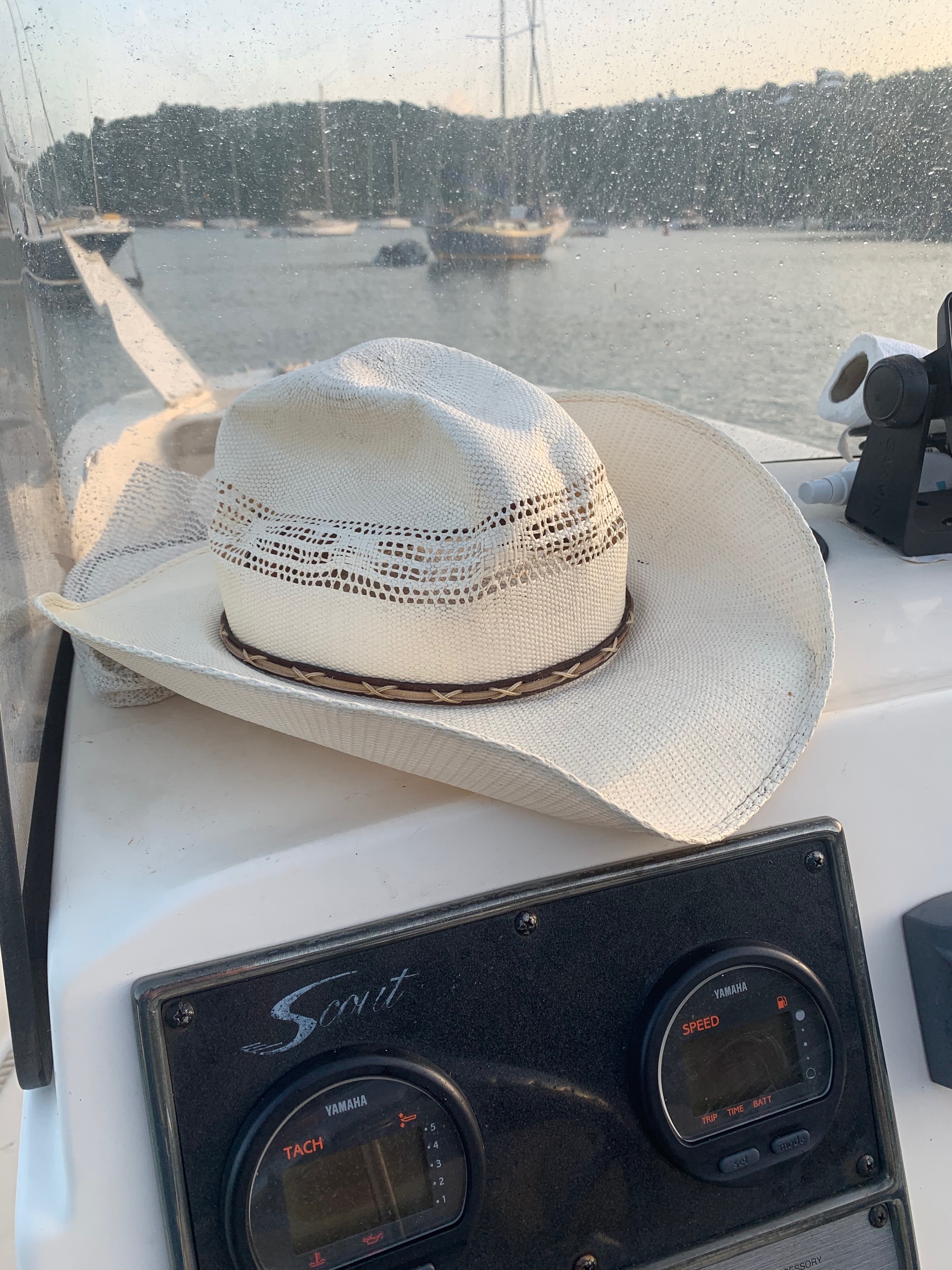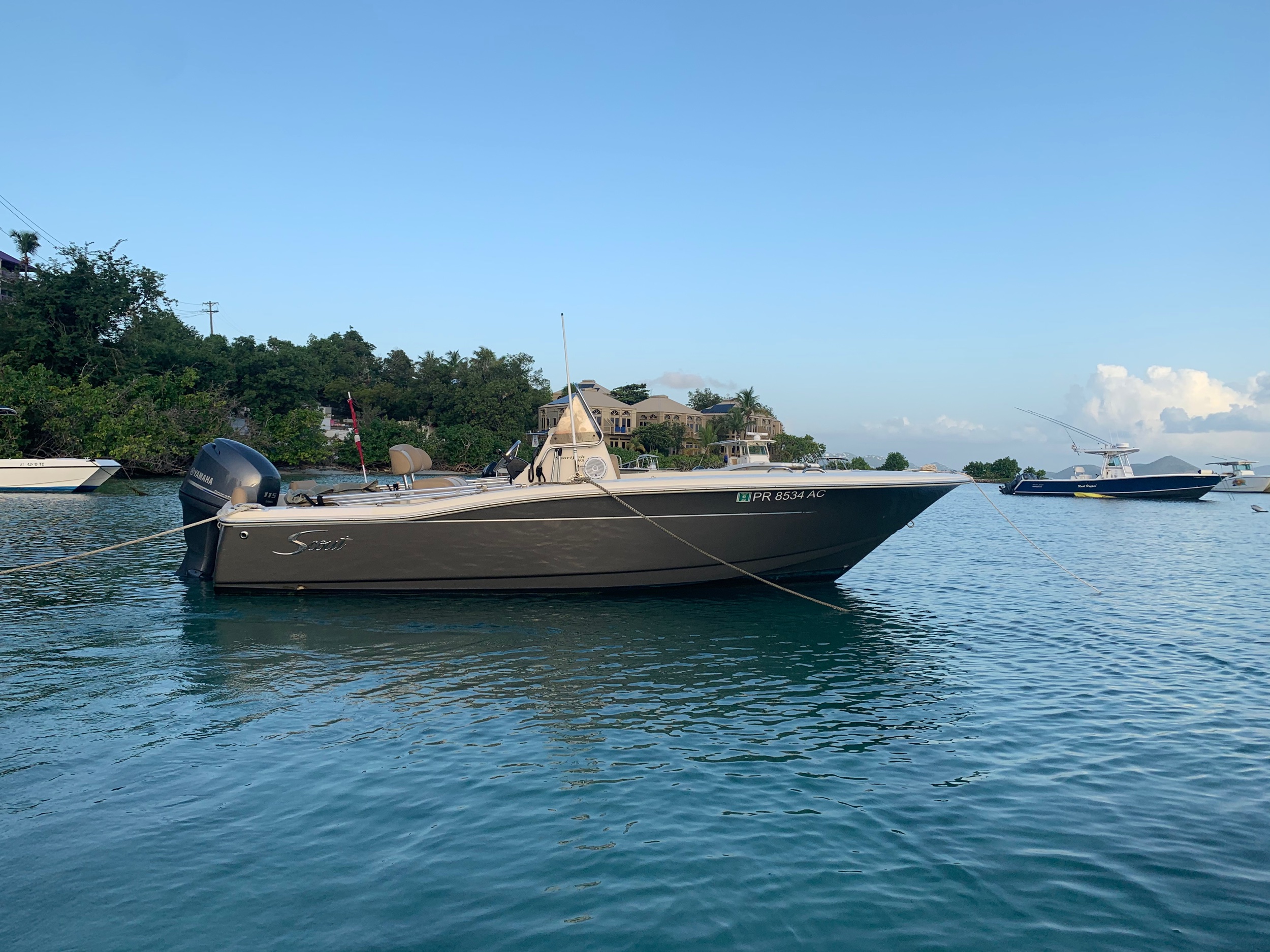 TUE AUG 27 9:05 AST - NHC Advisory #12 from 5AM is Promising
With just about 24 hours before Dorian's TS-Force winds hit the Virgin Islands, it's comforting to know we know where everything is and have done a mental dry run of what we'd be doing if it were worse.
I find myself taking downloads of maps to compare when the next advisory comes out. I'd like to see where things changed and where the forecast didn't. This NHC Interactive map is really an awesome tool that lets you revert back to previous advisories too.
As far as i can tell, it looks like the closest the storm could possibly come is 90+ miles away from St. John - and that's with < 40mph winds.
I remember last year, while Carrie was in Vermont, Hurricane Isaac tracked almost due West across the Caribbean a similar distance south of us in mid September. Isaac made it to a Category 1 Hurricane before it settled back down to a Tropical Storm as it passed by.
I recall waking up alone in the Owner's Suite wondering what the edge might look like. The morning of September 14, 2018 was cloudy at dawn. The at about 6:10am it started blowing and raining sideways. For about 5 minutes. Then it was over.
I'm guessing it will be a similar experience tomorrow morning sometime after 9am.
AUG 27 11:01 AST - NHC Advisory #13 Just Published
Well NHC Forecaster Stewart is back with some updated items for Advisory #13. Tropical Storm Warnings have been discontinued for St. Vincent & the Grenadines as well as the TS Watch for Grenada.
There is still a Hurricane Watch for PR and the DR that continues the possibility of Hurricane-force winds within 48 hrs. The only mention of the Virgin Islands is "INTERESTS IN THE VIRGIN ISLANDS SHOULD MONITOR THE PROGRESS OF DORIAN. "
Maximum sustained winds are around 50mph and slow strengthening is forecast putting Dorian near hurricane strength as it passes southwest of us and nears Puerto Rico.
The big item to take note of is that TS-Force winds extend 45 miles out from the center. Doing some quick math on Google Earth, i can see that if the center of Dorian nicks the SW corner of Puerto Rico, that would put us (Great Expectations and St. John in general) roughly 160 miles from the center of the storm - or over 3x the Tropical-Storm-Force wind forecast.
I just found the detailed bio of the Senior Hurricane Specialist at NHC who just posted this latest detailed advisory on Tropical Storm Dorian.
AUG 27 16:00 AST - Dorian's Center reforms Farther North
It's always something, isn't it.
First he's going to be a Hurricane. Then now just a Tropical Storm.
Forecast to be 200 miles south, then 150, then 130, then 180. Now he "reforms" farther north according to Forecaster Stewert. If you look at the map, a REFORM looks like a jump outside the plan.
Reformed

A term used in an advisory to indicate that the center of a tropical cyclone, usually weak, has dissipated and a new center has formed at a different location. This will sometimes lead to an incorrect representation of movement. The center of a cyclone can reform multiple times in its life. The new center is not given a new name, unless there is a period of time between old center dissipation and new center reformation
This makes the "interest in the Virgin Islands should monitor the progress…" even more pertinent now.
After 5 days of reading more than I ever imagined about hurricanes in general, and this one on particular, this afternoon I return to my weatherman-are-flipping-coins pessimism.
The 2:00p NHC update is only a partial update - the deep-thought advisory comes at 5:00p AST.
Unless it spins in a circle, it looks like it might be closer than planned.
I guess we sit and wait.
Again.
AUG 27 17:25 AST - Well, now we're under Tropical Storm Warning and Flash Flood Warning
Great. The eye popped up in another location (?) and the storm path is now curving more to the north. As of Advisory#14 at 5:00p, instead of the center just clipping the western tip, it's now predicted right over the center of Puerto Rico. This puts the center about 100 miles west. If it stays 40miles wide, that means the edge is less than 60 miles away.
This shift also puts the TS-Force winds arriving after 2:00a but before 8:00a tomorrow morning.
So, plan B - we go put all the patio furniture, loose items, hammocks, etc inside buildings 1, 2, and 3 and lock it up. We're not barring closed the hurricane shutters, yet.
No freak out, just take the next precautionary step. If it turns even more north than west, we'll decide then.

AUG 27 21:45 AST - Another jump to the north means Tropical Storm conditions 40 miles closer
After a day of regular work and a 5pm update from the NHC, we decided to use the 'opportunity' to hedge our bets and do a dry run buttoning up the compound for tropical storm conditions. We spent 3 hours taking everything that isn't fixed to the ground and moving it into each building. We closed all the windows, latched all the transoms, and filled the Great Room with patio furniture and beach chairs.
It might be overkill, but now we know how long it takes. Better safe than sorry.
If all we get is a bit of rain and some 30mph winds, it might seem like a waste of time. For
me, it's a great practice session for some future storm.
Everything is closed tight and protected and we sit wondering if a little or a lot of rain and wind is coming at 3am or 8am or maybe not at all. It's not forecast as hurricane strength, but it still put us on a serious edge.
Good night island. Go easy on Puerto Rico and the Virgins as well as the DR, Dorian.
WED AUG 28 2:50 AST - Bands of wind and rain starting on the south shore
We were just woken up by a whoosh of rain and wind on the roof and windows. The weather station on the roof reports 1/10" in the last 5 minutes. The wind has only peaked at 14mph so far. Nothing abnormal, just another brief rain shower.
Free water for the cisterns.
WED AUG 28 5:45 AST - Red skies in morn…
Well, proof that you really can't trust storm models is here this morning. The storm tracking recorrected (?) again more to the north overnight and it looks like it has slowed down a bit as well.'
The 5am NHC advisory still has Dorian as a tropical storm but it's now close enough to us that we are fixed in a Warning and Puerto Rico AND the Virgin Islands should expect heavy rainfall.
Ever since I was on island through Maria 2 years ago, Carrie has been a big fan of the Windy app (and website). It seems to represent wind, rain, and intensities well and is especially handy by showing motion. At 4:30a she woke up and said "it's going to be all over us this afternoon."
It does look like it, but then again, the colors are a relative gauge. Yes, it looks like we're going to get the heaviest, but it's only Tropical Storm force winds (~50mph).
It's only rained twice for 10-20 minutes and we're up to 2/10" accumulated overnight so far. The sunrise has some serious oranges and reds coming up - and to the south is dark blue-grey skies and wide swaths of white clouds right above the horizon.
My guess: it's going to rain off and on quite a bit all day today into tonight.


WED AUG 28 7:08 AST - The calm before the (little) storm
This morning was a pretty colorful sunrise with not that strong of a breeze, but then in the last hour, the deep dark color started coming in around the horizon from the south-southeast until now it's fairly dark everywhere but to the north.
AUG 28 11:46 AST - Early parts of a storm that is getting stronger.
Well, it looks like they under-forecast it - both in direction/path and strength. The 11am Advisory has now put us in a Hurricane Warning and the storm is not over Puerto Rico at all, but rather right between Culebra and St. Thomas. Much closer to the Virgin Islands than expected.
We actually watched the first big edge of the storm come west across Fish, Rendezvous and Hart Bay. We had the screen doors open and saw a wall of white touching the water that looked like fog. It moved very fast. Then all of a sudden you couldn't see Fish Bay. Then you couldn't see Ditleff. Then the water on Rendezvous got nasty and we watched the line of rain come. Then we got wet. Spit in the face and inside the door wet.
I set up the GoPro for Timelapse on the sliding glass door and we've been holed up in our apartment (Honeymoon).
Right before it came (10:30a?), i walked around the entire compound again, shut off the pool pumps and hot tub (huge power savings) and now we're using 0.8kW/hr of power.
An unexpected gift came to us in the form of a software enhancement. It may sound stupid, but when the sun isn't out, and power is off and on, and the wind is raging - it's huge. To explain as succinctly as possible, first understand that when you have Tesla Powerwalls and Solar, you can choose an A or B switch back at Tesla corporate: charge our Powerwalls from Solar or charge from the Grid. You can't do both. So when we are full up, the solar goes back to the grid (WAPA, our power company). If WAPA is out for an extended period, and you start using up all your stored power from the Powerwalls, then the timing matters because you need the sun to charge them back up. That is until StormWatch!
So the power was out for a couple of hours this morning. We used 15% of the total batteries. Then WAPA came back on and the StormWatch has some override that says "give me all you got grid, I need to recharge!" And 30 minutes later, we were. Then the power went out again. Incredible!
Thanks Tesla


THUR AUG 29, 2019 10:09 AST - It was real. It was (at times) fun. It wasn't real fun.
The little storm that could. Thursday-morning quarterbacking is happening all over social media this morning, so I figured I'd finish up with a summary and learning points from our day yesterday as a little forecasted 35mph wind storm 180 miles away turned into a full blown Hurricane just about right over our heads.
Storm Forecasting is NOT an exact science! We did NOT bar the hurricane shutters or transom bars. One transom popped open and no damage was done (they sit behind a concrete ring beam anyway). But we have decided that we will add a +2 to every future forecast. If NHC calls for a Tropical Depression, we'll plan for Hurricane CAT1. If they predict a Tropical Storm, we'll imagine a CAT2. And anything that could be a CAT1, we're shuttering the entire place and barring the transoms.

Sill Risers are your friend! When we installed the new doors, we did not put the included 2" sill risers on because the carpenter and I felt the added height on the bottom back of the doors wasn't worth the headache of guests possibly tripping over them. Well, they weren't needed in every room except the high-up-and-exposed owner's apartment yesterday. Wind and water pushed back at the weep holes and brought water into our room in streams. Plus, who knows if they wind was another 30-40mph. I just talked to the door manufacturer rep and we are buying 4" risers next month! We won't install them permanently, but instead keep them, labeled, with hurricane shutter bars for any future storms.

Never Enough Tools & Towels. Sure we had 5 Powerwalls with 74 solar panels running the place. We had all of our clothes, tech gear, and food in the apartment upstairs. But we had open cabinets. Next time we will have the entire Dewalt battery tool box, a bin of towels, a mop & bucket, as well as our screw/fastener bins. I went outside 3 times during the storm and sat in the wind and rain hand grinding through aluminum to solve our water problem.

Record for the Future. Yeah, we have 2 Nest cams on the driveways and an HD Axis Webcam, plus a GoPro Hero7. I figured I had multiple angles covered recording the mayhem. The internet went out for a few hours so the Nest cams didn't record the worst of it. The GoPro battery died before the 10am. The memory card in the Axis camera didn't mount properly. I'm a big fan of showing people in video - so next time, we'll have backup plans for each.
I hope no one was hurt, but I don't blame the NHC forecast systems. They will learn from their mistakes and improve the computer models. Carrie and I learned how to work better as a team next time and to avoid some of the silly little things that didn't need to be issues.
We hope the future path of Dorian sees him reducing in strength and just bringing some free water. We also hope that others learned from the unpredictability of nature and are even better prepared when it comes slamming into them in the future.
That's my first earthquake (last month), Carrie's and Sadie's first hurricane, and my second hurricane.
Enough for a few years.
THUR SEP 12, 2019 11:09 AST - Thinking about the phases of Disaster Recovery
Sadly, Dorian got massive AND slow. It swung north, picked up energy and hovered over The Bahamas and just hammered them. The images are sickening. The deaths and injuries are stunning. The destruction is just sad. I imagine so many souls lost and not knowing what to do next. Thousands are bringing in help.
We learned from FEMA over the past 2 years:
First there's Search & Rescue. Save lives by finding the missing and injured.

Then comes Early Relief: water, food, shelter, medicine.

After comes Recovery: Stability in supplies, housing, work, education.

Then there is Risk Reduction for future disasters.
We saw it here. I arrived on St. John just as Search & Rescue was winding down. We spent the last 2 years participating with others through the other phases. Just today, more than 2 years after Irma, the BBC teams are moving the Chocolate East power wires from the old wooden poles to the new fiberglass poles. I stopped to talk to them and the crew manager says the final shipment of new poles for St. John should arrive in November…2020. Next year! He says maybe they will be done installing them all by summer 2021. That's almost 4 years after Irma on a little 8 mile long island with under 1000 power poles.
Stunning.
We wish all the best to the people of The Bahamas, especially those on North Abaco and Eastern Grand Bahama who lost everything.
We learned from Irma, Maria, Isaac, Dorian. We improvise, adapt and over come. We will learn from the next one.