It all started Back in 2001…
After visiting St. John more than 50 weeks over the last 16 years (with 10 stays at Great Expectations), Steve & Carrie Butcher purchased Great Expectations on January 4, 2018 from original designers, developers, and owners Charles Atkins and Kristin Demong.
Carrie first saw the villa online back in 2001 (imagine how small the photos were). We had just gotten engaged and knew we wanted to have an intimate island wedding. We spent 5 nights on St. John and met with Chuck & Kristin. We planned a wedding and 37 people came down for a week on St. John the following October – 14 of the 'wedding party' stayed with us at Great Expectations.
We returned to the villa for our 1st anniversary, 2nd, 3rd, and 5th. We couldn't get enough of St. John or Great Expectations.
Steve started working for Great Expectations during another stay by taking over their website marketing and shooting 360VR photos of the villa (this was WAY before drones and iPhones). After another few visits, in 2012, we returned for our 10th anniversary with 20 friends & family members. Steve installed a new HD webcam on the villa. It was during that trip that we made the decision to start coming down more than once a year, and were hell bent on trying to move down (at least 1/2 of the year) before we turned 50 in 2021.
Spring and fall trips of 2 weeks each turned into 3.5 spring weeks and 2.5 fall weeks respectively. Then, in mid 2017, we came for an off-season trip to see what things would be like on St John in the summer. Long story short, we made it off island on Monday, September 4th before Irma hit with a wallop. Chuck and Kristin couldn't make it back to take care of the villa, and the island communications were virtually non-existent. Steve volunteered to go down the week after Irma and check on the villa. He left on a 4-day trip and was then stuck on St. John through Hurricane Maria for 17 nights. The villa survived wonderfully, and he worked to clean up the property, help others on island, and even built a website for visitors and locals to inform about recovery and rebuild. He then returned 3 more times in 2017 (once with Carrie). During that trip together, we both talked about moving down ahead of schedule and putting down some roots… the next thing you know, we bought Great Expectations from Chuck & Kristin.
In March of 2019, we packed up the dog and moved down full time. We are keeping our respective day jobs in Vermont, but will be onsite frequently throughout the coming years. We look forward to helping you plan your next family vacation, group trip, or wedding on St. John, hopefully with Great Expectations as your villa choice.
Steve & Carrie ButcheR
THE VILLA CREW
We are so fortunate to have inherited a group of islanders who help make our place the phenomenal rental villa it is. They work with us diligently cleaning, planting, upgrading, fixing, cutting, washing, painting, grouting, digging, screwing, and just overall maintaining our villa in an effort to continually exceed our guests' expectations.
Owners, Vacation Planners, Property Managers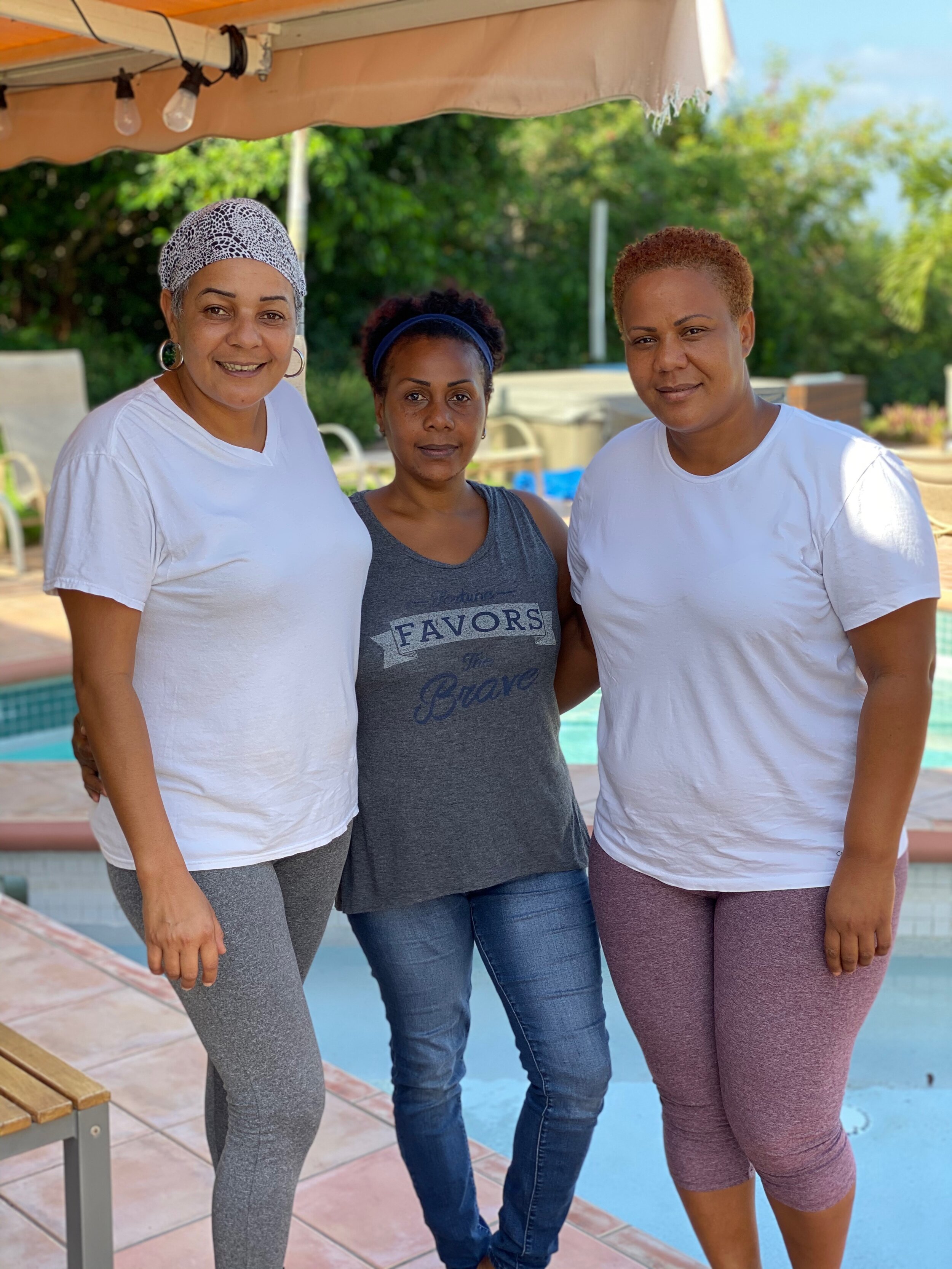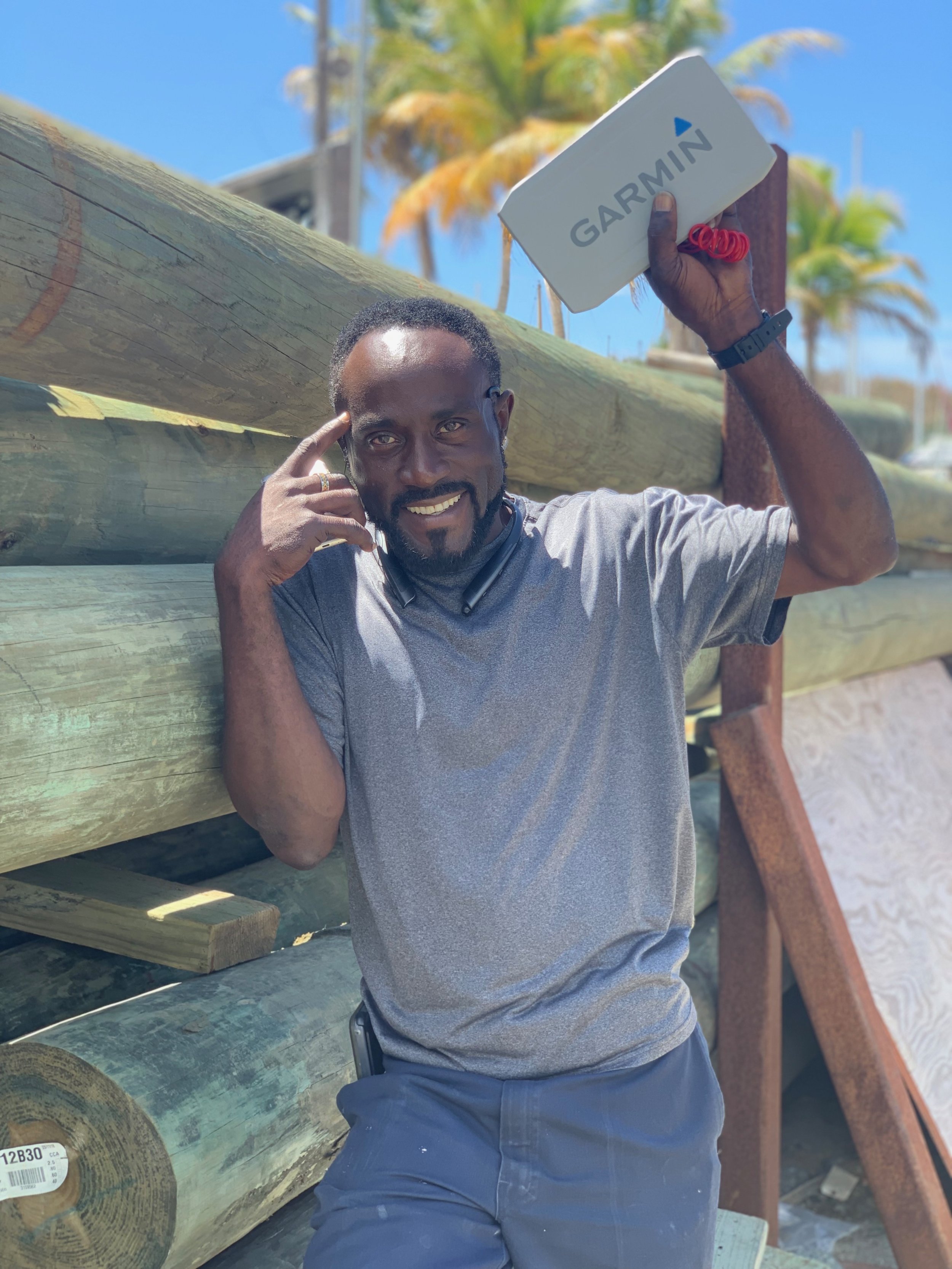 Maintenance Man Extraordinaire
Pools, Hot Tub, General Maintenance
The Original Owners / Designers / Builders / Dreamers (1989 - 2017)
Chuck Atkins & Kristin Demong first visited St. John in the 1970s and fell in love with the island. They stayed at Caneel Bay and discovered they could rent a villa for 2 for the cost of one night at Caneel Bay.
They returned every year since and for many years brought their favorite chocolate labrador, Caneel, who loved to swim after coconuts in Hart Bay each afternoon.
In 1989, they arrived on island with a plan to purchase a piece of land to build our their dream villa on – preferably with sunrise & sunset views and of course visuals of water as much as possible. They also wanted to make sure they found a place with plenty of breezes (which meant an easterly exposure) and wanted it convenient to Cruz Bay, but not too close to be bothered by the late night noise. Secondarily they hoped for a short walk to the water and enough land to build and have some privacy. In short, they were set on finding the ultimate piece of land that no one else had discovered yet!
They looked at dozens and dozens of properties, climbed trees to see what the view would be like, and stood and tried to get a sense of the breezes. When they got to the parcel that is now Great Expectations, they knew it was it! Great breezes, great views of the water, a sunrise right out of the movies, and although they didn't know it when they bought the property because of bushes – sunset views! They made an offer that same day, flew their architect friend and his wife down from Boston for 2 weeks to design the Villa, got a construction loan from a friendly banker – spending over $1 Million over two years to build Great Expectations.
They were long-term members of the St John Accommodations Council and were committed to many of the St. John community initiatives such as the St. John Community Foundation, St. John Animal Care Center and the Friends of the Virgin Islands National Park.
Great Expectations was their dream, their passion, and love, and we are proud to have taken the reins!
Chuck Atkins & Kristin Demong, Jan 4, 2018