St John is the perfect spot for your beach wedding
Find out why so many brides and grooms choose Great Expectations
St John is known as 'Love City' because to come to the island once, is to fall in love. The romantic vistas are everywhere on this tiny island and we can think of no where more beautiful to have your Caribbean beach wedding, commitment ceremony, or vow renewals than on St John. There are plenty of people who are ready, willing, and able to help make sure your wedding plans and events go smoothly.
We've seen many dozens of island weddings and they typically involve Great Expectations being the home base for either the family of the bride/groom or the wedding party.
Beach Weddings

Villa Weddings / Destination Beach weddings with wedding party staying in villa

Vows renewal / anniversary with close friends and family staying at villa

Small weddings & receptions at the villa (usually during sunset)
SAME SEX MARRIAGES ON ST. JOHN: The June 2015 US Supreme Court decision on Obergefell v. Hodges officially brought marriage equality for 2 persons to the Virgin Islands and we welcome all at Great Expectations.
Planning your St. John Wedding
Wedding Wedding Locations, Photoghraphers, Officiants, and Reception Locations for your perfect island wedding. Make Great Expectations the 'home base' villa for your upcoming St. John wedding and enjoy long-term relationships we have with many wedding vendors.
Ceremony Locations
We've had guests get hitched at the villa, on one of dozens of beaches, aboard a sunset sail on a catamaran or even underwater.
Reception Locations
Have your after-beach-wedding party at the same location, or maybe move to a restaurant, bar or even a sailboat.
Wedding Planners & Officiants
First time to St. John? Want a little help planning your wedding with an expert who lives on island?
Caterers, Chefs and Bakeries
Cater your wedding reception, provision the villa for you and your guests, and even have that perfect wedding cake baked right here on St. John.
Our Actual 2002 St. John Wedding
Our first stay at Great Expectations (16 years before buying the villa) was for our wedding. We visited St. John after our engagement in 2001 and met with Chuck & Kristin. We fell in love with the location and booked it for our 2002 fall wedding. We invited 60 people for late October 2002 and had 37 come down to celebrated with us. Here's the actual itinerary of OUR Caribbean wedding week on St. John. We had 15 (our "wedding party") stay at the villa and another 24 guests stayed at the Westin or rented other smaller villas.
Arrival, Jeeps, Provisions, Check In to Great Expectations
More Arrivals, Beach Day. Everyone on island meets up at Skinny Legs in Coral Bay for happy hour, horse shoes and a get-to-know each other good time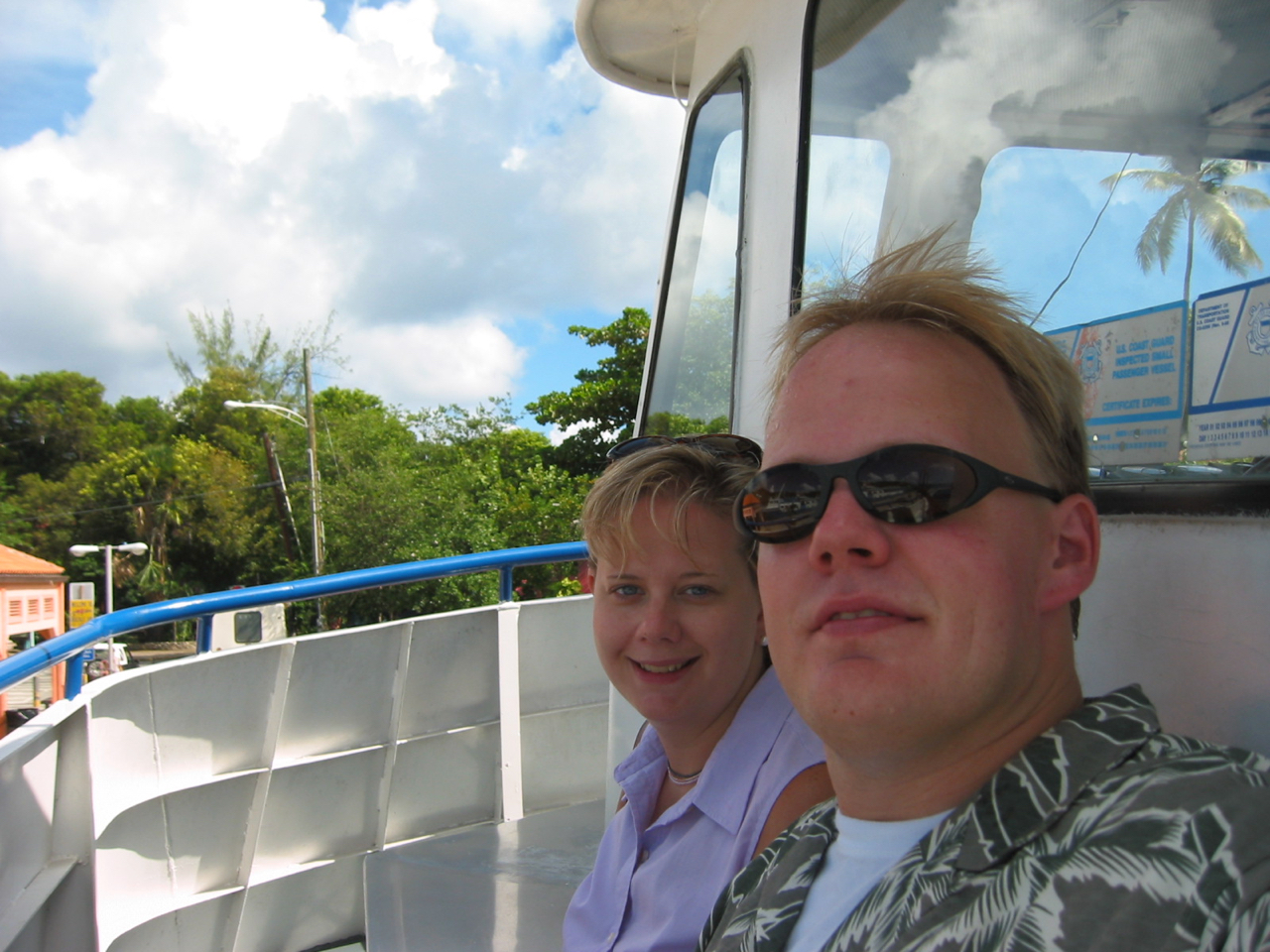 Bride & Groom ferry to St. Thomas for wedding license. Rest of guests arrive and have a beach or wandering around Cruz Bay day.
All day sailboat snorkel trip on Calypso catamaran!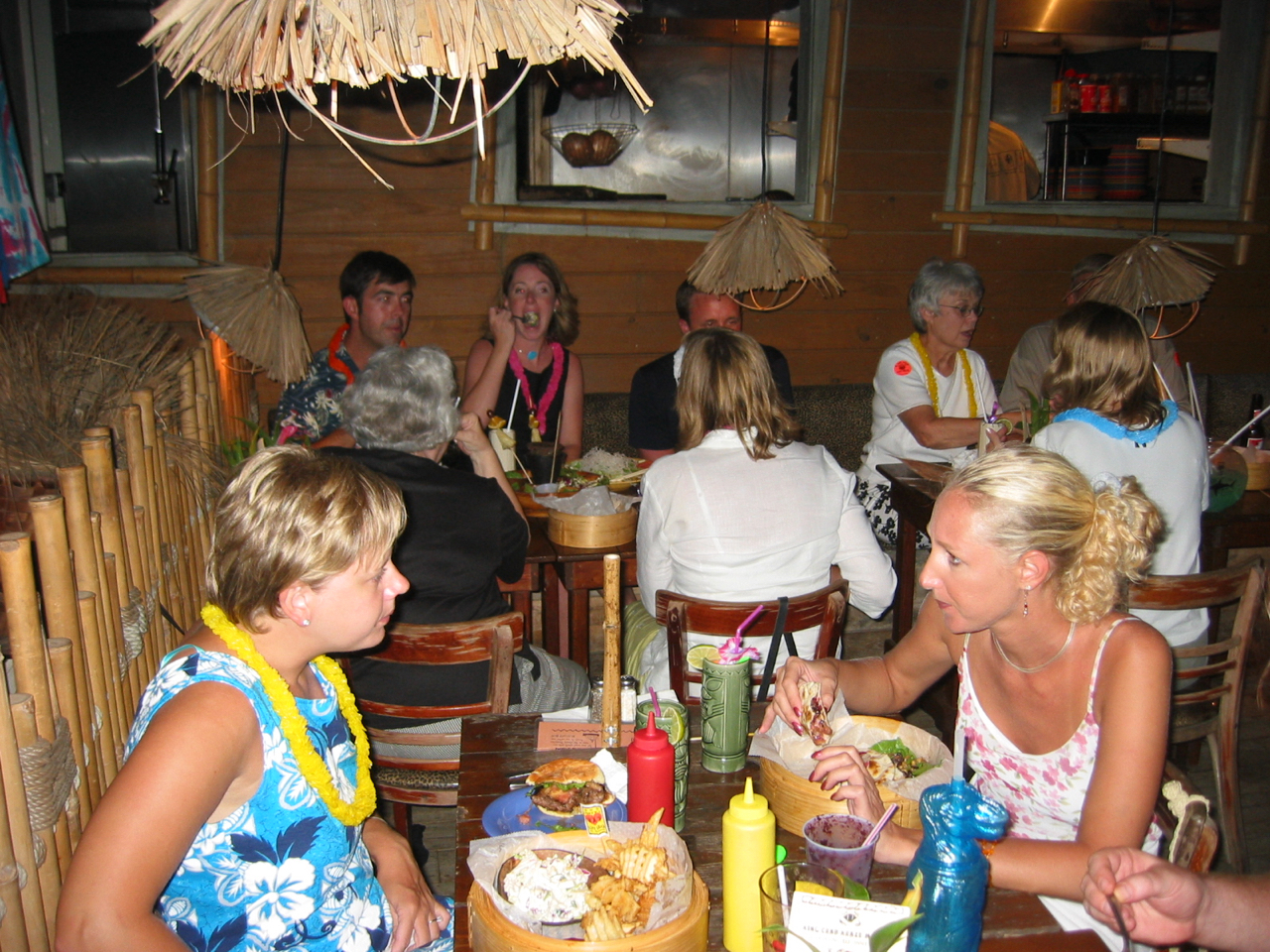 Rehearsal dinner/party at Duffy's Love Shack in Cruz Bay (now Dog House Pub). Bride checked into Westin.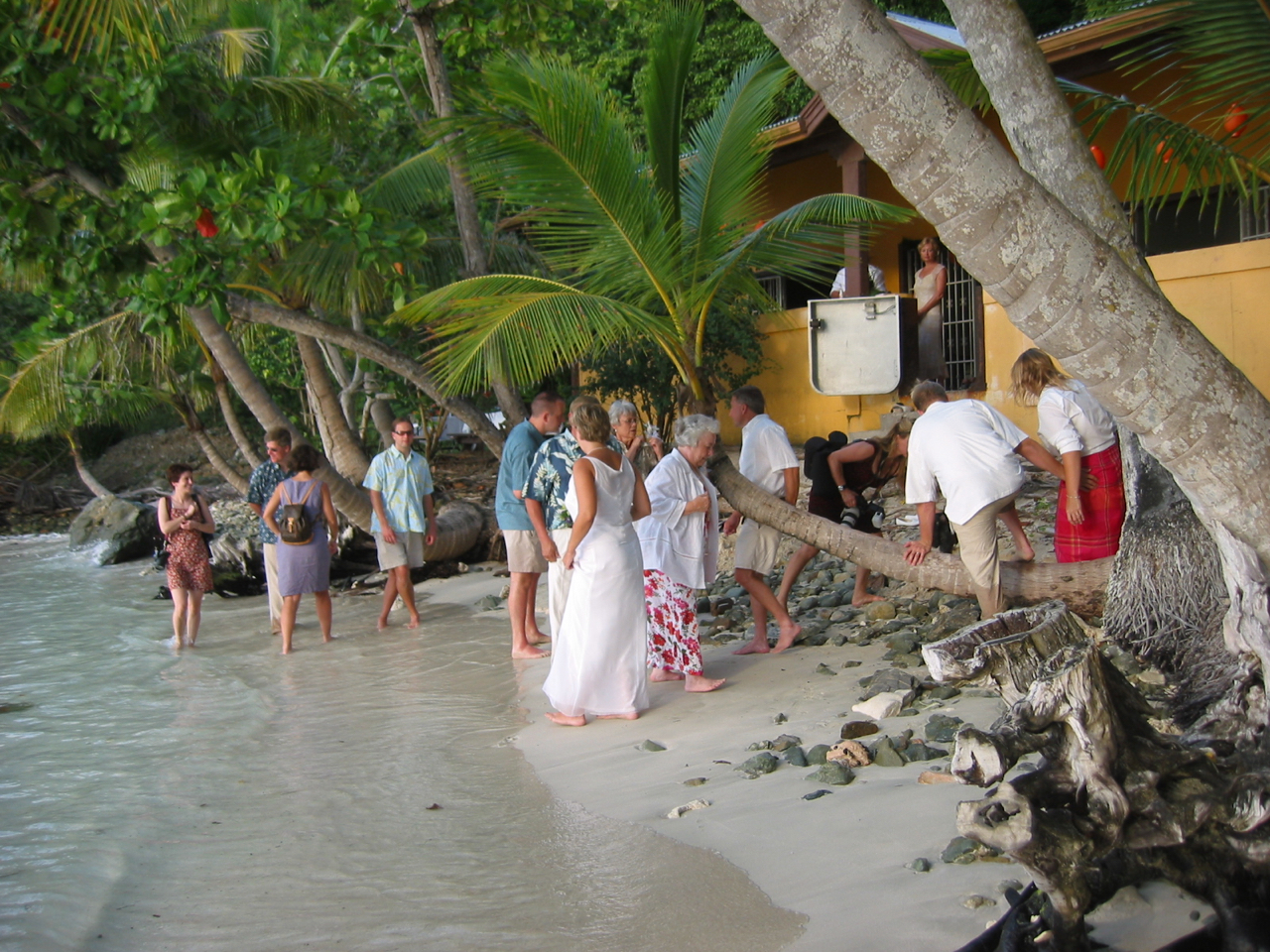 Bridal shower at Westin pool for all women on island. Groomsmen had breakfast then helped organize Oppenheimer Pavilion. Sunset wedding on Gibney Beach with reception at pavilion including island music. Appetizers, dinner and drinks by Passion Fruit Chefs.
Relaxation, some guests departing, others went to last beach day.
Stayed over at Ritz on St. Thomas with a few close wedding couples. Honeymoon flight to Anguilla for a week-long stay at Cap Juluca.
"Now more than 16 years later, when we talk to friends and family, the most common memory from the wedding is 'greatest wedding AND vacation we ever had!' The villa was a private getaway with pools and hot tubs for us and the wedding party...and St John was our playground for the week. We wouldn't have done anything different - and we have been back 7 times for our 1st, 2nd, 5th, and 7th, 8th and 10th anniversaries as well as 3 couples trips and stay at Great Expectation each time!" - Carrie
Jan 2018: "Oh and we bought the place" - Carrie
Honeymoon on St. John
We have had dozens of guests come for a wedding or anniversary vacation and then have the bride & groom stay on for an additional few days or week for their own private honeymoon.
If you are thinking about getting married on St. John, consider renting Great Expectations for your wedding party and family, then stay on longer to relax in our private island compound.
Don't forget that Brides & Grooms stay FREE at Great Expectations!